Söta Sälta

Duo with french singer Elsa Birgé.
Our first show, is called "J'ai tué l'amour" after a song by Barbara with the same title. Swedish and french songs, some very old, some a bit more recent. All on the theme of strange loves, arranged for vibraphone, objects and two voices. Created in 2018, and performed all over France.
=> Link to teaser
In 2019 we created a childrens show called "Comme c'est étrange" and recorded a CD with the songs. The CD recieved Grand Prix Charles Cros 2021. Most of the songs are original songs with textes by Michèle Buirette, Yannick Jaulin, Abbi Patrix and Jean François Vrod but also the French surrealist Robert Desnos.
The touring of the show is managed by Gommette Production.
The duo is supported by the French Cultural Ministry
=>Link to Söta Sälta
– – – –
FAKE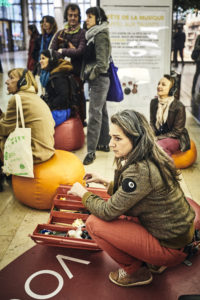 FAKE is a performance where the audience stroll around freely, wearing headphones that transmit a live musical backdrop. A loosely narrated version of Henrik Ibsen's Peer Gynt constitutes the framework of this piece. Each participant can choose their own path, rhythm, and focal point within the set-up, as they drift constantly between reality and fiction. The audience embark upon an astounding aural voyage, and electronic sounds lead them to surpass the limits of physical space.
With Wilfried Wendling, Abbi Patrix, Linda Edsjö and occasional guests
More information here :  https://alamuse.com/productions/fake/
– – – –
Compagnie du Cercle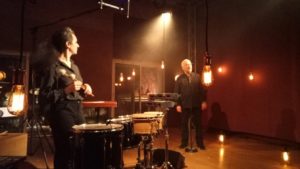 I work with storyteller Abbi Patrix since 2007. We are facinated by the relation between stories and music, and through  performances, shows, workshops, events – we keep exploring this relationship.
We 've created two duo shows: Pas de deux in 2010 and " Loki-pour ne pas perdre le nord" in 2015.
Since 2014 we collaborate with Wilfried Wendling and La Muse en Circuit.
Link to Compagnie du Cercle
Teaser Loki