Other Gardens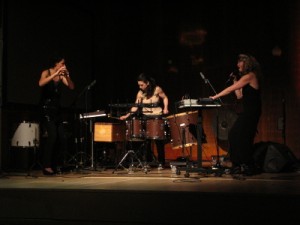 As a natural continuation of the project "Saariho and Other Gardens, singer Randi Pontoppidan, flutist Jennifer Dill and I continue our work mixing composed pieces with improvisations.
"We have worked with this mix of composed and improvised music on several occasions, and find that it creates a very special quality of presence. The "here and now" of the impro-parts influences the performance of the composed pieces, the deep concentration and precision of the solo-pieces helps to structure the improvisations.
From our experience, the audience is involved in what we are doing from the first sound to the last, and leaves the concert hall with the feeling of having lived something unique." Album released in 2014 on CD Klassisk in Denmark.
– – – –
Inger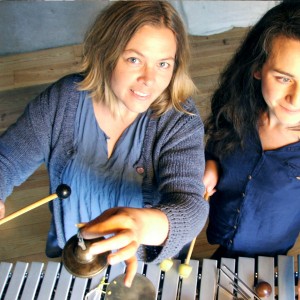 Inger Christensen was a poet, novelist and essayist, and is considered the foremost Danish poetic experimentalist of her generation.
Danish singer Birgitte Lyrgaard introduced me to Christensen's world, and we both find her texts utterly inspiring. The rhythm of the text; the sound of the words; the structure of the poems; this poetry is music, quiet music waiting to be played and sung!
Has been performed in Denmark, Germany, Switzerland and France. Record released in January 2013
Project Homepage
– – – –
Comment ça va sur la terre?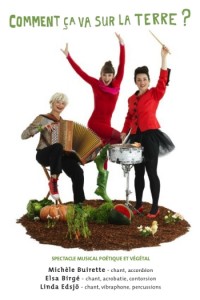 Spectacle musical pour les enfants et leurs parents.
Les trois chanteuses-musiciennes plongent au fond de la mer, volent aux confins de la Lune pour atterrir et regarder à la loupe une simple feuille, un ver de terre…
Elles inventent des histoires, des jeux vocaux, des chansons, des ambiances sonores étranges et surprenantes pour petits et grands à partir de textes surréalistes et poétiques de Robert Desnos, Raymond Queneau, Jean Tardieu, Boris Vian et de Michèle Buirette.
Avec Michèle Buirette, Elsa Birgé et Linda Edsjö.
– – – –
 Une Chenille dans le Cœur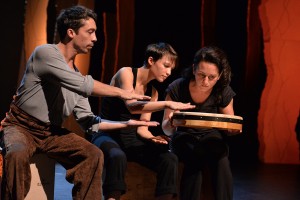 An adaptation of Stéphan Jauberties play with the same name by choreographer Michèle Dhallu. Dance, music and text merge into one expression. On stage are dansers are Léa Darrault and Matthieu Gaudeau and me.
– – – –
LeLe

Is an ensemble working with flute, percussion and electronics, formed by Jennifer Dill and myself. We collaborate with composers, exploring the possibilities of the instruments with modern techniques to find links between classical tradition and the present. Our repertoire consists of music with live-electronics, music using a more classical tape technique and music that is wholly acoustic.
We also work with different improvisation techniques, and in this manner have created music for two choreographed pieces by Eva Lundström: Regn-Regnbåge –Regn in collaboration with Colombian composer Eblis Alvarez and Blå, närmast vatten in collaboration with Swedish violinist Jonas Lindgren (Fleshquartet).
We have played at Copenhagen Jazz Festival, Suså New Music Festival, Made Festivalen in Umeå, Wundergrund Festival in Copenhagen, Dansens Hus in Stockholm and were one of four selected In:spil ensembles in 2009.
– – – –